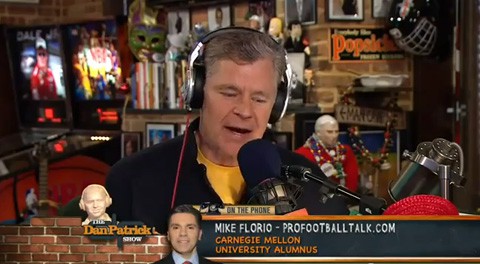 Profootball.com and NBC Sports pundit Mike Florio, who has been observing the NFL Combine, was interviewed today on The Dan Patrick Show and told Patrick that, where Manti Te'o is concerned, teams and coaches want to know if he is gay or not but won't bring it up because they know it will create headlines, distractions, and media noise.
Watch (starts at around 2:50), AFTER THE JUMP…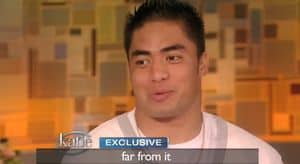 Said Florio:
"Here's the elephant in the room for the teams and it shouldn't matter, but we have to step aside from the rest of reality and walk into the unique industry that is the NFL. Teams want to know whether Manti Te'o is gay. They just want to know. They want to know because in an NFL locker room, it's a different world. It shouldn't be that way. I don't think you can ask that question — If you go Katie Couric on Manti Te'o, it's going to come out that some team, some GM some coach asked Manti Te'o if he's gay. Then you'll have to deal with all the distraction and all the stuff that flows after that."
Asked Patrick:
"You're telling me that you're hearing from teams who want to know this, but how do you ask it? Are they trying to find a finesse way to ask that question, or are they going to do investigative work on finding out if Manti Te'o is gay?"
Responded Florio:
"It's been described to me as the proverbial elephant in the room and I don't think anyone knows how to solve this dilemma yet. It's just that they want to know what they're getting. They want to know what issues they may be dealing with down the road. We just assumed that at some point there would be an openly gay player in an NFL locker room and the team would have to work with the realities and make sure that everything's fine. Now you have a situation where you have a guy who was in a relationship with a fake girl who ended up being a real man, and the man has said to Dr. Phil that he was romantically in love with Manti Te'o, it just raises a lot of questions that the NFL at some point is going to have to deal with. Tony Dungy makes a great point on this. If the NFL were ready for an openly gay player, there would be an openly gay player. Nobody knows better the feel of an NFL locker room than someone who's in it. 'm not saying anyone would take Manti Te'o off the board if they suspected he's gay or know he's gay. That's just the thing that's out there that they want to know the answer to."
Watch (starts at around 2:50), AFTER THE JUMP…
In an interview that aired in January, Te'o told Katie Couric that he's not gay when she asked him if he made up the dead girlfriend story to hide his sexual orientation.
"Far from from it," said Te'o. "Faaaaar from that."