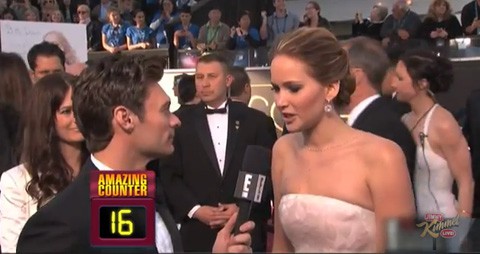 Was "amazing" the most overused descriptor during Oscar coverage?
Jimmy Kimmel took notes, and the number of times is was used may amaze you.
Watch, AFTER THE JUMP…
In related news, the Oscars had its best ratings in three years:
A total of 40.3 million people watched in the US, providing a fillip for producers struggling to halt a slow but steady decline in viewers since 57.25 million tuned in to watch Titanic win 11 gongs in 1998.
MacFarlane's jokes about female nudity, domestic violence and Jews in Hollywood have led to vilification from commentators, but his "edgy" approach saw a 20% boost among viewers aged 18 to 34 and a dramatic 34% hike in male viewers in the same age range. Men aged 18 to 49 were up 18% for a show that has traditionally been more popular with women viewers. Overseas, it is estimated that up to a billion people watched at least part of the show, though there are no official figures.