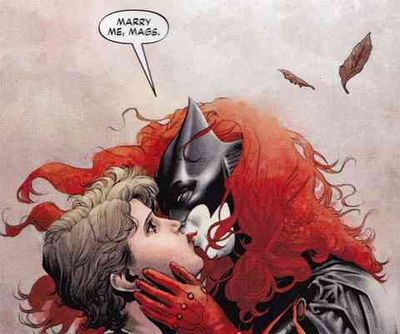 PHOTO OF THE DAY: Batwoman pops the question.  
BY SAM GREISMAN
A look back at today's top stories
GAY ISSUES
Being a gay Mormon seems like a nearly impossible thing, but one BYU student has discovered, by filming his coming out to his friends and family, that it is actually possible to blend the two. In response to the Associated Press' guidance to not use the terms "husband" and "wife" for same-sex married couples, GLAAD really wants to know just "what the hell" they are thinking. 
More than 50 pro-LGBT supporting companies have signed a letter that urges President Obama to keep federal contractors from discriminating on the basis of sexual orientation and gender identity. It's about time! And there is some potential bright news in Minnesota where a state senator, a REPUBLICAN state senator at that, is looking to co-sponsor a bill that could bring marriage equality to the state. 
**
ENTERTAINMENT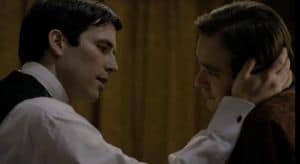 Even though we don't, as yet, have an out player currently in the NFL; there is one in the fake NFL portrayed on the show "Necessary Roughness". Let's hope life imitates art. Downton Abbey creator Julian Fellows recently spoke with The New York Times about Thomas' sexuality on the show and how it is important to remember how hard things were then. 
Hey you gays! Look out! Debra Messing is roaming the streets. Try not to squeal too much. Also Lance Bass, Susan Boyle and a few others are teaming up to spread the word about the importance of a certain salad dressing. 
**
WINGNUTTERY
The gay-hating Boy Scouts may have some harsh penalties headed their way as a new bill is attempting to strip them of their tax-exempt status. Earlier in the week we reported on some pro-gay love happening on the subway in New York. Well just when we started pontificating on how wonderful New York is, a gay couple was attacked on the subway and no one did anything about it. 
In a desperate ploy to draw undue sympathy, an "ex-gay" from Focus on the Family is trying to claim that he is being oppressed because of his hateful and discriminatory beliefs. And a Florida middle-schooler who is trying to get a gay-straight alliance started in her school is having to deal with idiotic parents who are comparing it to a gang for some reason. 
**
VIDEOS OF THE DAY
Addicted to porn? Well here are some of the reasons that your brain won't let you quit. And here is what it will be like to wear Google's Project Glass. Either the future has arrived or it will make you really nauseated.