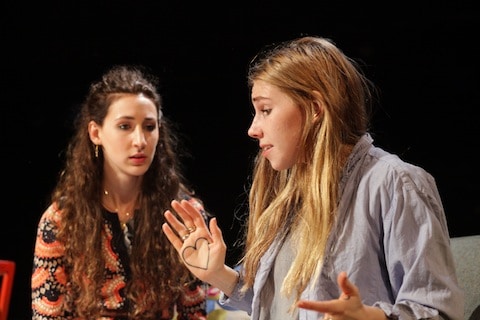 BY NAVEEN KUMAR
Kids these days — 'Generation Me'
according to playwright Paul Downs Colaizzo — are a viciously self-obsessed lot.
Inheriting a world that's less than ripe with the opportunity they've been
promised has made them sociopathic—and they'll do anything in the interest of
self-preservation. Or so the story goes in the young writer's New York debut, Really Really, which opened Off Broadway
Tuesday in an MCC production at the Lucille Lortel Theatre.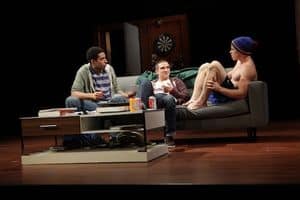 Zosia Mamet of HBO's Girls leads the cast of college seniors
as Leigh—a tough girl from little means. In its eerie
opening scene, she and her roommate Grace (Lauren Culpepper) burst into their
dark apartment blackout-drunk, returning home from a party. Grace can't stop
laughing, holding up her blood-covered hand. Leigh can hardly stand.
The morning light reveals a more
benign college scene. Though Leigh has a devoted boyfriend, Jimmy (Evan
Jonigkeit), she spent some time behind closed bedroom doors at the party with
its host and her long-time crush, Davis (Matt Lauria). Grace, who cut up her
hand in a drunken stumble on the way home, is all bandaged, packed up, and
ready to head out to a Future Leaders of America Conference. But first she
wants to hear all the dirty details, which Leigh is curiously unwilling to dish.


Cut to the boys' party-ravaged apartment,
where their brainy friend Johnson (Kobi Libii) is playing video games, and
Cooper (David Hull), Davis' roommate, saunters around shirtless calling Johnson
a pussy for leaving the party early. When Davis wakes up and stumbles out, the
boys badger him about last night's conquest. Only thing is—he doesn't remember
it.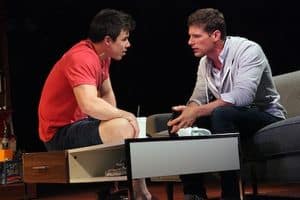 The rest of the story revolves
around the ensuing uncertain battle of he said/ she said. Did he really force
himself on her? He seems like an upstanding guy. Didn't she have a crush on him? Could she be lying to save her
relationship? Because she's actually a pretty good liar.
The arrival of her more openly
scrappy older sister Haley (an amusing Aleque Reid), makes a refreshing addition to the second act and provides further context for Leigh's moral character.
Serviceably directed by David Cromer (Our Town, Tribes), Colaizzo's play
vacillates between the sort of slick dialogue and surface drama typical of
nighttime teenage soaps, and moments when it seems he's after something
more complex. The story only retains its dark edge from the unwavering selfishness of its characters, not because its treatment of hot-button subject matter is particularly
original.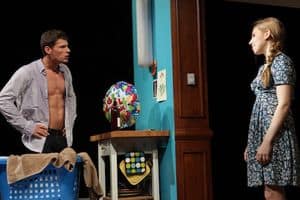 The clearest distinction is that TV dramas are serial, so presumably audiences need to actually like one or more characters to continue tuning in. Not so much the case here.
Grace's speech at the Future
Leaders of America Conference, directed to the audience at the start of act
two, details the 'Generation Me' ethos that saturates Colaizzo's drama. Aside
from casting the shadow of a heavy hand, her monologue and the playwright's
pegging of the 'iGeneration' feels conveniently reductive. it also makes finding a
foothold for empathy in this play that much more difficult.
By the time a series of twists and
turns bring the play to its engineered, disturbing conclusion, one appropriate
response Really Really seems ready
and waiting for is: 'Wait.. No, seriously??'
Recent theatre features…
Fault Line Theatre's 'From White Plains' Opens Off-Broadway: REVIEW
Tectonic Theatre Project Presents 'The Laramie Project Cycle' At BAM: REVIEW
Ethan Hawke Opens in 'Clive' Off Broadway: REVIEW
Martin Moran's 'All The Rage' Opens Off Broadway: REVIEW
Ben Rimalower Is Working Through His 'Patti Issues' At The Duplex: INTERVIEW
Follow Naveen Kumar on Twitter: @Mr_NaveenKumar (photos: janna giacoppo)