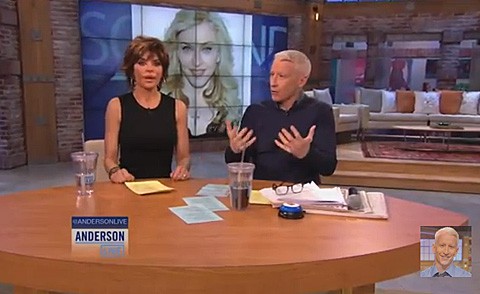 As has been previously noted, Anderson Cooper will be receiving GLAAD's Vito Russo Award this year and Madonna is presenting it to him. Lisa Rinna made note of it on his daytime show today.
Watch, AFTER THE JUMP…
In related news, a group of rabid Little Monsters is reportedly threatening GLAAD over its choice of presenter, making false claims about Madonna, who was a fierce campaigner for safe sex during the AIDS crisis:
Madonna is one of the major reasons for AIDS. Back in the 1980's, she encouraged gay men to have unprotected sex. While she certainly didn't start the disease, she and her lack of morals helped it spread.
Please rethink your choice of having Madonna as a presenter. If you don't, we Little Monsters will strike back in a way you won't like.
Sincerely,
Lady Gaga's Little Monsters