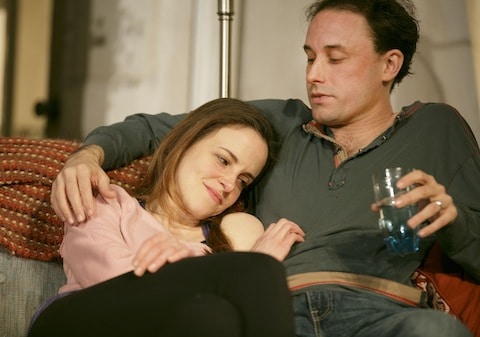 BY NAVEEN KUMAR
From the wail of a passing siren to
the hiss-and-clack of a radiator, every sound in Amy Herzog's superb new play Belleville, which opened Off-Broadway
Sunday at New York Theatre Workshop, echoes with subtle menace. They underscore
a vague yet permeating sense that the young American couple occupying the
sparsely furnished Paris apartment on stage doesn't quite belong there—at least not together.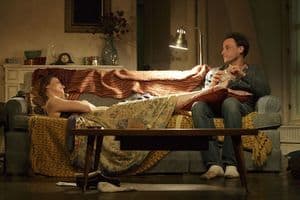 Abby and Zack met in college and
married young. They skipped his graduation from med school and moved to Paris so
Zack could take a job at Doctors Without Borders. Abby traded in her hopes of
becoming an actor and became a yoga teacher instead. "I can have the trappings
of a person I hate and still be a person I like, right?," she asks no one in
particular. When the play opens, it's clear they've been in Belleville for some
months—reasonably settled, but not quite comfortable.
An issue with their
travel visas prevents them from returning home unless they don't want to come back again—so,
they're stuck. The isolation of living as foreigners abroad only tightens their
already desperate grip on each other. Within minutes of the play's opening,
it's clear that Abby and Zack's emotional lives have twisted into a codependent
knot too tight for either of them to untie. And there's a faint uneasiness in
the air suggesting they might soon have reason to try.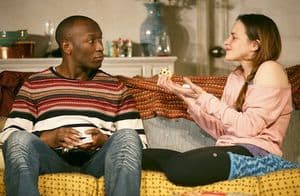 As Abby and Zack, Maria Dizzia (In the Next Room…) and Greg Keller (Wit) give the sort of rare and remarkable
performances that are at once exacting and seemingly effortless. Every moment on
stage reveals further proof of their fragile mindsets and increasingly
troubling relationship. Each time one of them retreats behind a closed door—to
the bathroom for a shower, or the bedroom for a phone call—the tension of their
momentary separation feels palpable, even somehow dangerous.
Phillip James Brannon and Pascale
Armand are excellent as Alioune and Amina, the couple's French-Senegalese
landlord and his wife. In the opening scene, Alioune
and Zack (friends as well as neighbors) hang out and smoke weed, though Alioune has to broach the
uncomfortable subject of Zack being more than a little behind in the rent. It's the first evidence of
secrets Zack keeps from his wife, but for whose protection?
This New York production brings
together the original cast from the play's world premiere at Yale Repertory
Theatre last season. Under the expertly nimble direction of Anne Kauffman (Detroit), they've shaded in every
contour of their characters and work together like a well-oiled machine. 
At ninety-five engrossing, intermissionless minutes, Herzog's play is tighter and more fully developed than her previous outing this season (The Great God Pan at Playwrights
Horizons). A gripping portrait of intimacy on the edge of collapse, Belleville unfolds
carefully and subtly—until it suddenly, frantically unravels. 
Recent theatre features…
Edie Falco Opens In 'The Madrid' Off Broadway: REVIEW
Zosia Mamet Opens in 'Really Really' Off Broadway:REVIEW
Fault Line Theatre's 'From White Plains' Opens Off-Broadway: REVIEW
Tectonic Theatre Project Presents 'The Laramie Project Cycle' At BAM: REVIEW
Ethan Hawke Opens in 'Clive' Off Broadway: REVIEW
Follow Naveen Kumar on Twitter: @Mr_NaveenKumar (photos: joan marcus)