New Jersey Governor Chris Christie does not have an opinion yet on a bill under consideration in the New Jersey legislature that would ban so-called 'gay conversion therapy', the Star-Ledger reports: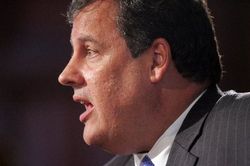 "I'm of two minds just on this stuff in general," he said at a news conference at Stone Harbor Elementary School. "Number one, I think there should be lots of deference given to parents on raising their children. I don't — this is a general philosophy, not to his bill — generally philosophically, on bills that restrict parents ability to make decisions on how to care for their children, I'm generally a skeptic of those bills. Now, there can always be exceptions to those rules and this bill may be one of them."
As is his practice with most legislation, Christie said he had yet to look at the bill and won't until it gets to his desk.
The New Jersey Senate Health Committee advanced the bill in a 7-1 vote this week following some powerful testimony, which included that of Jacob Rudolph, the Parsippany High School senior who came out to his entire class at an awards show in January. Watch it HERE.