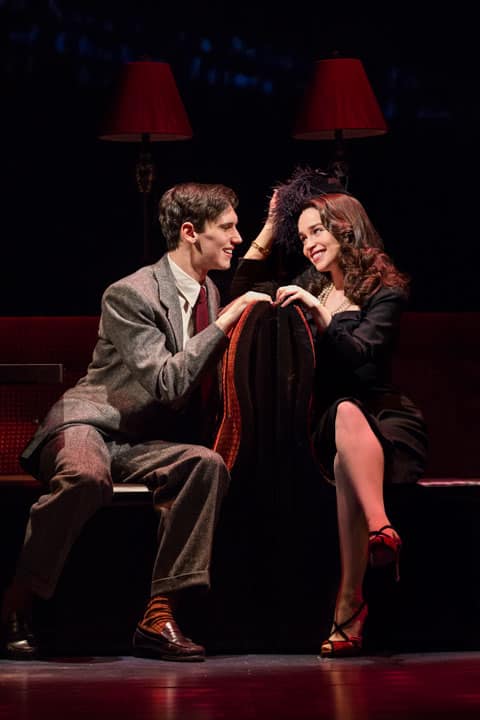 BY NAVEEN KUMAR
Though it ends with a cameo by a cat on a stormy night in
New York City, Richard Greenberg's stage adaptation of Truman Capote's Breakfast At Tiffany's, which opened at
the Cort Theatre on Broadway last week, isn't very much like the iconic rom-com
made famous by Audrey Hepburn.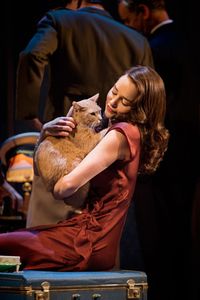 Rather than reshaping it into a conventional love story like
the 1961 film, this production stays close to Capote's original novella set
during the middle years of World War II. In his stage adaptation, Greenberg (Take Me Out, Three Days of Rain)
maintains the original narrative's first person voice with Fred (an amiable Cory Michael
Smith) as the play's narrator.
The story begins with a missing girl. It's 1957 and Fred hasn't
seen his friend and neighbor Holly Golightly (Emilia Clarke of HBO's Game of Thrones) in over ten years. He goes
on to recount the story of their fateful and fitful relationship, cluing in the
audience on his feelings as seasons pass and their lives become increasingly
entangled.
That Fred and Holly don't live happily ever after is clear
from the start—his fascination with her is only momentarily and unrequitedly
romantic. Rather, the play is more concerned with steadily revealing the enigmatic nature of
both characters.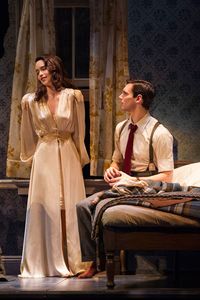 While Hepburn's Holly Golightly is all sweetness and light, the
Holly on stage here is more brassy and droll—an ingratiating yet calculating
city girl making her own way in wartime Manhattan. Clarke lends the character a
particular kind of charm, though it seems in line with the story being told
here that her Holly is less magnetically sympathetic as the Holly made famous
by Hepburn.
Although he spends most of the play baring his soul to the
audience, our narrator has secrets of his own—and like most loaded secrets, Fred's
turn out to be sexual. Clues slip from the narrative throughout (some less
subtle than others) hinting that Fred may not be exactly on the
straight-and-narrow.
Though its story is decidedly different from the film, the
production benefits from cinematic design elements. Director Sean Mathias (Bent) makes creative use of lighting,
projection and mobile scenery to guide the action from one scene and season to
the next, conjuring everything from a night stroll on the Brooklyn Bridge to horseback riding through Central Park.
With its aura of film noir rather than frothy antics, this Breakfast At Tiffany's will likely catch staunch romantics and classic film devotees off-guard. But the combination of two meticulous craftsmen in Capote and Greenberg make for a smart, seductive, well-spoken drama.
Plus, there's the cat. People really do seem to love that cat.
Recent theatre features…
Annie Baker's 'The Flick' Opens Off Broadway: REVIEW
'Hit The Wall' a New Play About the Stonewall Riots, Opens Off-Broadway: REVIEW
Amy Herzog's 'Belleville' Opens Off Broadway: REVIEW
Edie Falco Opens In 'The Madrid' Off Broadway: REVIEW
Zosia Mamet Opens in 'Really Really' Off Broadway:REVIEW

Follow Naveen Kumar on Twitter: @Mr_NaveenKumar (photos: nathan johnson)