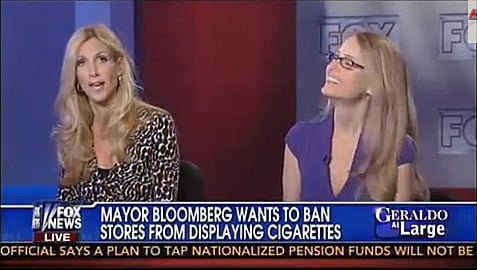 A Geraldo at Large discussion about Bloomberg's various public initiatives turned into an Ann Coulter tirade on sodomy, AIDS and gay batthouses, Mediaite reports:
Coulter was not having any of it. She tore into Bloomberg by suggesting we just be done with it already and "have a death penalty for smokers," before changing the subject to the negative behaviors that liberals are unwilling to stigmatize, such as illegitimate birth.
Geraldo Rivera's efforts to corral the segment away from unwed teen pregnancy were for naught. When Roth made the claim that bans on various unhealthy activities are warranted because "we pick up the tab" for other's bad habits, Coulter countered that "I think you're going to have to do something about the gay bathhouses."
"AIDS is very expensive, and if I'm paying for it, how about discouraging that behavior?" she explained.
Later, while clarifying that she doesn't actually want to ban homosexual activity, she told Roth, "If you're argument is 'Smoking: we all have to pay,' then why not 'Sodomy: we all have to pay.'" She told Roth that a consistent position on "nannying" would require her to be "anti-bathhouses" in addition to anti-smoking.
Watch, AFTER THE JUMP…
(via jmg)