Something peaceful to take into your evening.
Mashable: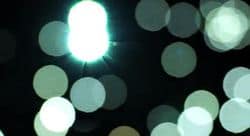 HitRECord, an online collaborative production company founded by actor and director Joseph Gordon-Levitt, released the above video earlier this week. The two-minute short shows a stunning collection of contributor- and audience-submitted clips of various "flickering lights" — reflections on rivers, candles on birthday cakes, cell phones scattered across a packed theater.
The concept originated from a poem by HitRECord member Wirrow, called "Give Me All The Flickering Lights," which is recited in the video.
Watch, AFTER THE JUMP…