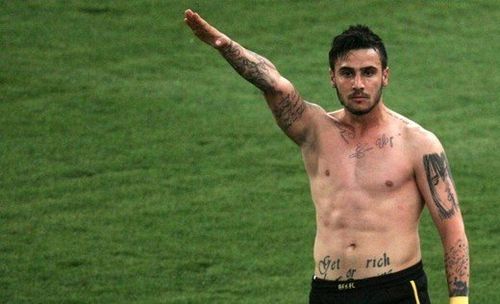 Giorgios Katidis, a Greek footballer who gave a Nazi salute after making a game-winning goal over the weekend has been banned for life from representing Greece in the game, the NYT reports:
The Hellenic Football Federation met Sunday in response to the incident and decided to ban the player, who has previously captained the national team in youth competitions. "The player's action to salute to spectators in a Nazi manner is a severe provocation, insults all the victims of Nazi barbarity and injures the deeply pacifist and human character of the game," the federation said as Greece marked the 70th anniversary of the deportation of thousands of Greek Jews to Nazi death camps.
Reuters adds:
The 20-year-old, a former captain of Greece's Under-19 team, made the gesture in celebrating his winning goal in a 2-1 Super League victory over lowly Veria on Saturday. Katidis apologized and asked to be dropped from AEK's first team.
"I would like to confess that I am totally unacceptable and I feel terrible for those I upset with the stupidity of my act," Katidis said in a statement. "I made the mistake so I will be the one to pay for it, AEK is not responsible. So that is why I have decided to put myself out of the team because I have now realized how much I have offended the history of the club. Also, I understand fully the reasons for the decision made by the Greek Football Federation to which I owe a huge apology as it has helped me to get where I am in the professional game."
Katidis reiterated that he was not a fascist or racist.
Watch the video, AFTER THE JUMP…