Yesterday I posted some quotes from Cardinal Jorge Borgoglio, now known as Pope Francis I, related to his thoughts on same-sex marriage and gay adoption.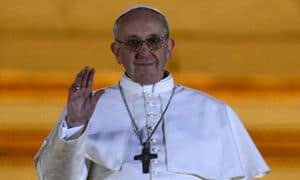 The latter set of quotes, in which Bergoglio called same-sex marriage "the destructive attempt to end God's plan," came from a letter he wrote to a group of nuns that was never supposed to be made public, though when it did, the church drew backlash from Argentina's secular population, Buzzfeed's J. Lester Feder explains in an excellent piece bringing context to these quotes.
After the letter was exposed, and its damage evident, this happened, Feder explains:
When it became clear that stopping the marriage law would be impossible, the church may have tacitly given its backing to a civil union law as a way to head off the marriage bill. Senator Liliana Negre de Alonso, a member of Opus Dei and one of the politicians most closely linked to the Catholic Church, sponsored the civil union bill. (This would be like Rick Santorum having endorsed a civil union law in the United States.) It went nowhere. During the debate, the leader of the majority party reduced her to tears while calling her a "Nazi" for backing legislation that would create a "separate-but-equal" status for same-sex couples.
After that, the church noticeably moderated its tone when fighting social issues. During a debate over changes to the civil code in 2012, which included sensitive reproduction issues like surrogacy and the handling of fertilized eggs, the church tread far more lightly — making their case but avoiding the strong language that cost them support in 2010.
"Today they come with a stance that is much more receptive to another point of view," said the chairman of the committee leading the civil code reforms back in August 2012.
How much this experience has moderated Bergoglio himself remains to be seen. He was replaced as the leader of the Argentine church by Archbishop José María Arancedo, who is known for having a far less belligerent manner than Bergoglio.
We can hope that it has moderated Bergoglio, but, of course, that remains to be seen.
Feder notes that it has given Bergoglio a bit of practice in dealing with certain situations:
Bergoglio understands far better than his predecessor the challenges of opposing the tide in favor of same-sex marriage in countries where the church is embattled on many fronts…If the position of the church itself does not change, Bergoglio — now Pope Francis — may nonetheless have a more grounded sense of how to lead an institution in countries where its policy positions are dividing it from the people it hopes to reach.
We'll see.
In related news on character, David Mixner notes Bergoglio's silence during Argentina's "dirty war" in which "between 15,000 to 30,000 artists, writers, students, intellectuals, trade unionists and even priest were brutally killed, often tortured and their bodies thrown out of airplanes over the ocean."
The Catholic Church at the best was silent about the 'missing' and supported the military junta when it was in power and conducting the mass killings from 1976 to 1983. In fact, the church handed over two priests who refused to adhere to the church's support for the military's dirty war and they became among the missing.
What we do know with certainty from that period is that the new Pope remained silent about the killing, torture and dumping.