Obama, celebrities tweet support for marriage equality.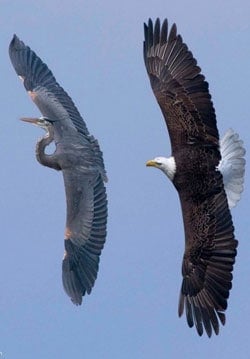 Fly heron, fly!

Prince Harry returning to America.

Brendon Ayanbadejo: Baseball might be before football with an openly gay player. "The reason I say that is because I think there is less of a connection to religion in baseball. The religious roots are a lot deeper in basketball and football. With that being said, I think baseball players are more open minded."

Ryan Gosling to play Oscar Pistorius?

Scientists want to bring 22 animals back from extinction. "They chose the animals using the following criteria: Are the species desirable – do they hold an important ecological function or are they beloved by humans? Are the species practical choices – do we have access to tissue that could give us good quality DNA samples or germ cells to reproduce the species? And are they able to be reintroduced into the world – are the habitats in which they live available and do we know why they went extinct in the first place?"

Looking back at the Golden Girls and marriage equality.

James Franco and Howard Stern discuss the 'Hatha-haters'.

Brad Goreski flexes again for Terry Richardson.

Cold sores, herpes virus linked to memory loss.

Bachmann campaign hit with Congressional Ethics probe: "The Daily Beast has learned that federal investigators are now interviewing former Bachmann campaign staffers nationwide about alleged intentional campaign-finance violations. The investigators are working on behalf of the Office of Congressional Ethics, which probes reported improprieties by House members and their staffs and then can refer cases to the House Ethics Committee."

A new teaser trailer for Mad Men was released.

The New Normal takes on the Boy Scouts ban.

Florida 'Family' group predicts boy-on-boy action if Boy Scouts lift gay ban: "The list also predicts 'a surge of boy-on-boy sexual conduct' and 'Cub Scout packs and Boy Scout troops marching in gay-pride parades with salacious conduct and partial nudity.' And for some reason, worries about 'URL website links from individual pack, troop, and council websites to other websites with inappropriate sexual and political content.'"