Veronica Mars movie Kickstarter campaign raises $2 million goal in 10 hours.

Dolphin seen swimming in NYC's East River. "Dolphins are occasional visitors to New York's waterways and, unlike in January, when an obviously ailing dolphin turned up in the filthy Gowanus Canal in Brooklyn, marine mammal rescuers did not immediately sound alarms."

Dennis Rodman figures out way to get noticed in Rome: drive around in his own Popemobile.

If you wear Google's Glasses you are an a**hole.

Openly gay man named new leader of Jewish Reconstructionist movement: "Rabbi Klein is the first openly gay man to head a national rabbinic association in the United States."

Tom Hardy without puppy.

Court overturns Virginia's anti-sodomy law: "The majority ruled that Virginia's 'Crimes Against Nature' anti-sodomy provision is unconstitutional in light of a 2003 U.S. Supreme Court decision invalidating state laws that make sexual activity between consenting adults crimes."

Here's what Games of Thrones would have looked like if it had come out in 1995.

Things are stirring on the set of True Blood.

Chris Hayes to fill Ed Schultz spot at 8 pm on MSNBC.

Nate Silver predicts when the new Pope might die: "As a matter of actuarial science, Francis is not likely to have an especially long tenure. The nine previous men who were known to be 75 or older at the time of their election to the papacy served for an average of only five years."

Elton John to appear on new Fall Out Boy album?

Cory Booker launches fundraising blitz: "Since announcing last December that he would "consider" a bid for the Senate, Booker has declined to make his candidacy official, saying only that he won't make an announcement until after the New Jersey gubernatorial race this November. But event RSVP forms posted on the mayor's political website — hidden from the homepage, but still searchable to the public — make clear that his still nascent fundraising efforts are robust, and that his campaign operation is already well underway."

Spy agencies to get access to Americans' finances.

Matthew McConaughey is slowly expanding back to life.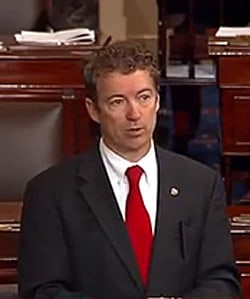 Rand Paul: " I believe in the historical definition of marriage. That being said, I think contracts between adults—I'm not for limiting contracts between adults. In fact, if there are ways to make the tax code more neutral where it doesn't mention the word marriage, then we don't have to redefine what marriage is."

Judge declares mistrial in Cara Rintala case after jury can't come to consensus: "Rintala was on trial in the murder of her wife, Annamarie Cochrane Rintala, 37, who was found beaten and strangled in the couple's Granby home on March 29, 2010. Police responding to a 911 call from a neighbor arrived at the scene to find Cara Rintala sitting on the basement floor with her wife's paint-splattered body in her lap, wailing."

Australian network TEN edits intimate gay scenes from Glee: "In the episode  implied sex scenes between Kurt & Blaine and Santana & Quinn were edited, yet heterosexual ones remained. A scene with Finn and Rachel, whereby Rachel removes her clothing so that it is implied she is naked under the bed covers, remained intact."