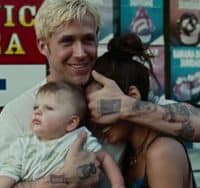 Movie #1 Handsome Luke
This excellent crime drama is stylish and engrossing that it didn't even occur to me until after the movie ended that this is the second time in less than three years that Ryan Gosling has played an amoral stuntman / driver / criminal who pursues a woman with a child who is already quite taken. It's a testament to the director Derek Cianfrance (who previously delivered Gosling's best work in Blue Valentine) that this new film feels so different despite sharing a genre and so many similiarities. 
Movie #2 Officer Cross
I didn't even recognize Bradley Cooper at first. He enters movie #1 as a cop in a very frenzied chase sequence. Soon Cooper has wrestled the narrative away from Gosling and we're in a quieter less adrenaline-fueled film. Which is not to say that it's lacking in intensity. This one's a character study and crisis-of-conscience drama. Though it's fairly involving, Bradley Cooper just isn't quite the mesmerizing movie star that Ryan Gosling is. And then…
Movie #3 AJ & Jason
Downgrade! The third movie, several years later, follows the sons of both Cross and Luke as they meet in high school and become friends… of sorts. Their meeting will unearth lots of emotional baggage from Movies #1 & #2 and Movie #3 will attempt (clumsily) to wrap things up.
Neither Emory Cohen as AJ (shamelessly acting in all caps) or the ubiquitous rising star Dane DeHaan as Jason is yet up to Gosling or even Cooper's camera-seizing level… which is a problem for the third act of a long crime epic which aims to pull its thematic threads together through the DNA of its fathers and sons. 
BONUS SCENES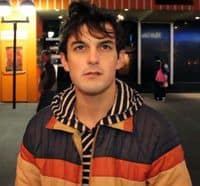 We're in that quiet period between Oscar Season and Summer Blockbusters so it's a good time to explore other entertainments. Do you ever watch any web series? Due to a monster crush on Wesley Taylor ("Bobby" on Smash) I've been loving IT COULD BE WORSE, which follows a young actor through his misadventures in New York, cheating on his boyfriend, auditioning for Broadway shows, and visiting his inappropriate therapist (an awesome cameo from the one and only Audra McDonald). I've also looked at an episode or two of OLD DOGS NEW TRICKS another gay-centric comedy series which follows a group of aging gay friends and asks if we ever grow up? This web show attracted name guest star Greg Louganis for its latest episode so have a look and see what you think.

If you're in New York City, I highly recommended catching Tilda Swinton reviving her performance of "The Maybe" at MoMA, where the alien goddess sleeps all day in a glass box on public display. There is no schedule for the performance but if you here she's there, she'll be there til the museum closes. [They don't allow photos so I drew my visit.]

Now that the world is done arguing loudly about whether LES MISERABLES is an instant classic worthy of its Best Picture nomination or a terribly shot misfire, you can enjoy it in the safety and quiet of your own opinion on Blu-Ray and DVD. I loved the movie though I recognize that the more rational critiques have their points and I agree that it peeks too early. I'm fairly certain that at home I will usually shut it off after Fantine dies and I've already seen the two best scenes in "Soliloquoy" and "I Dreamed a Dream". *sniffle* Say what you will but Hathaway and Jackman earned those Oscar nominations.
What's your favorite song?

Or… let's skip the tragedy and get trampy in the comments. Bring Him Home: Hugh Jackman, Eddie Redmayne, Aaron Tveit, or Russell Crowe? Choose.
Nathaniel Rogers would live in the movie theater but for the poor internet reception. He blogs daily at the Film Experience. Follow him on Twitter @nathanielr.