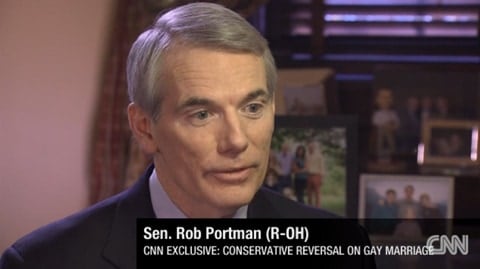 Senator Rob Portman (R-OH) on Thursday became the first sitting GOP senator to back same-sex marriage, explaining his decision to do so in a sit-down interview with CNN's Dana Bash.
"I'm announcing today a change of heart on an issue a lot of people feel strongly about. It has to do with gay couples' opportunity to marry. During my career in the House and also the last few years in the Senate I've taken a position against gay marriage rooted in part in my faith and my faith tradition..
"I had a very personal experience which is my son came to Jane, my wife and I, told us he was gay and that it was not a choice, that's just part of who he is and that he had been that way since he could remember."
Watch clips of the interview, AFTER THE JUMP…
CNN adds:
Portman says his son, now a junior in college, helped him work through his decision to announce his change in position on gay marriage and blessed the idea of publicly announcing Will Portman's sexuality.
"I think he's happy and, you know, proud that we've come to this point, but he let it be my decision just as you know, it's going to be his decision as to the role he plays going forward in this whole issue," said Portman.
Until now, this was a secret to most people in politics, but not everyone.
Last year, when Romney was vetting Portman to be his running mate, the Ohio Republican informed both Romney and his top campaign advisers that he has a gay son.
"I told Mitt Romney everything," said Portman with a laugh. "That process is, intrusive would be one way to put it. But, no, yeah, I told him everything."
Portman also wrote an op-ed in the Columbus Dispatch, which reads, in part:
One way to look at it is that gay couples' desire to marry doesn't amount to a threat but rather a tribute to marriage, and a potential source of renewed strength for the institution….
…The process of citizens persuading fellow citizens is how consensus is built and enduring change is forged. That's why I believe change should come about through the democratic process in the states. Judicial intervention from Washington would circumvent that process as it's moving in the direction of recognizing marriage for same-sex couples. An expansive court ruling would run the risk of deepening divisions rather than resolving them.
I've thought a great deal about this issue, and like millions of Americans in recent years, I've changed my mind on the question of marriage for same-sex couples. As we strive as a nation to form a more perfect union, I believe all of our sons and daughters ought to have the same opportunity to experience the joy and stability of marriage.