Senator Rob Portman (R-OH), who last night became the first sitting Republican Senator to come out for marriage equality,  a decision he made after his son came out to him as gay, has another question to answer.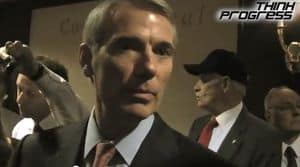 Does he want to support the Employment Non-Discrimination Act (ENDA) and does he believe that businesses should be able to fire his son for being gay?
In an interview with Think Progress last June, Portman explained why he opposed ENDA, saying he was concerned it would spawn litigation and "make it difficult for employers to feel comfortable."
Said Portman:
What I'm concerned about in Paycheck Fairness and other legislation like that is the fact that it will spawn a lot of litigation the way the legislation is written. So you don't want it to be a boon to lawyers, you want it to actually help people. But no one should discriminate….A lot of them would create a lot of legal rights of action that would make it more difficult for employers to feel comfortable, to be able to hire, and to keep this economy moving. So you have to be careful how you do it.
Given what he told Dana Bash, I think it's safe to assume that Portman's son had already come out to him at the time of this interview.
Watch, AFTER THE JUMP…