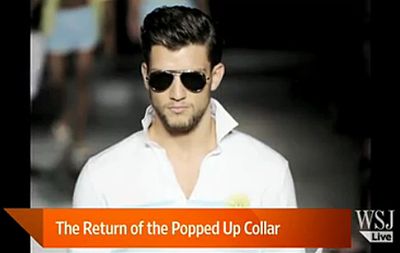 PHOTO OF THE DAY: The 80's are back! Or so says the Wall Street Journal.  
BY SAM GREISMAN
A look back at today's top stories
Now that we have a face and a name to attach to the new Pope, it's time to reflect further on Cardinal Bergoglio's history with gay rights issues. New GOP poster boy Marco Rubio spoke at CPAC this afternoon and whined that although he doesn't believe gays should have rights like marriage he is not a bigot. Bill O'Reilly's latest gasket-blowing incident came last night when a Denver Post columnist called him out for his ugly trolling of Colorado's openly gay House Speaker. 
There is tragic news from California where a man was brutally assaulted in front of a relative's home in what was clearly a hate crime. And NOM continues to display its classiness by calling Supreme Court Justice John Robert's decision to adopt, a "second best option". 
**
GAY ISSUES
With opening arguments in the Prop 8 Supreme Court case fast approaching, David Boies tells USA Today what his biggest fears and confidences about the trial are. After running a picture of the aforementioned Colorado House Speaker Mark Ferrandino kissing his partner, the Denver Post is polling its readers to see what they thought of it. 
The New York Post will not be attending the GLAAD awards as they have been denied a press pass due to the tabloid paper's history of defamatory coverage of trans people. Also in New York, Attorney General Eric Schneiderman wants to look into whether prospects at this year's NFL Combine were illegally asked about their sexual orientation. 
**
ENTERTAINMENT
Pardon the terrible pun, but when did Shia LaBeouf get so buff? This summer's pop sensation Carly Rae Jepsen is quickly becoming an outspoken supporter of gay rights. And check out Deadmau5 and Imogene Heap's collaboration on "Telemiscommunications". 
**
VIDEOS OF THE DAY
Super cutie Jon Cozart uses a capella to explain what really happened to all the Disney Princesses. And watch a full day in the greatest city on earth.