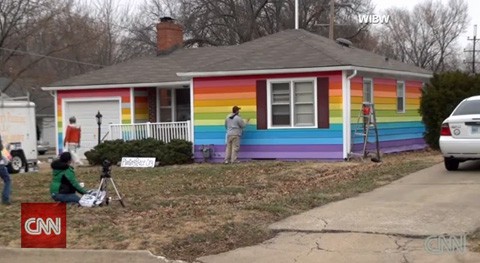 Yesterday I posted about the new 'Equality House' painted up right across the street from the Westboro Baptist Church in Topeka, Kansas.
Shirley Phelps-Roper loves it:
"I love it," she said. "What he does is he keeps the eyes of the whole earth on this message. Now everyday all people are thinking about is God will not have same sex marriage."
The church even put out a statement.
"We thank God for the Sodomite Rainbow House. It is right across the street from the ONLY church that loves people enough to tell them the Bible truth about the filthy, soul-damning, nation-destroying sin of sodomy…The Sodomite Rainbow house helps shing a bright spotlight on this!"
Watch CNN's Jeanne Moos interview the house's new owner, AFTER THE JUMP…