Senator Rob Portman's son Will, talks about his entire coming out process, from being completely closeted, to telling his best friends, to writing a letter coming out to his parents, to finally experiencing the freedom of being fully out in an essay in the Yale Daily News that will likely resonate with a lot of people.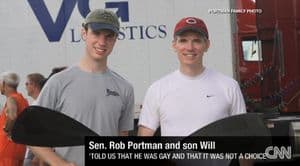 Here's an excerpt:
I started talking to my dad more about being gay. Through the process of my coming out, we'd had a tacit understanding that he was my dad first and my senator a distant second. Eventually, though, we began talking about the policy issues surrounding marriage for same-sex couples.
The following summer, the summer of 2012, my dad was under consideration to be Gov. Romney's running mate. The rest of my family and I had given him the go-ahead to enter the vetting process. My dad told the Romney campaign that I was gay, that he and my mom were supportive and proud of their son, and that we'd be open about it on the campaign trail.
When he ultimately wasn't chosen for the ticket, I was pretty relieved to have avoided the spotlight of a presidential campaign. Some people have criticized my dad for waiting for two years after I came out to him before he endorsed marriage for gay couples. Part of the reason for that is that it took time for him to think through the issue more deeply after the impetus of my coming out. But another factor was my reluctance to make my personal life public.
We had decided that my dad would talk about having a gay son if he were to change his position on marriage equality. It would be the only honest way to explain his change of heart. Besides, the fact that I was gay would probably become public anyway. I had encouraged my dad all along to change his position, but it gave me pause to think that the one thing that nobody had known about me for so many years would suddenly become the one thing that everybody knew about me.
It has been strange to have my personal life in the headlines. I could certainly do without having my sexual orientation announced on the evening news, or commentators weighing in to tell me things like living my life honestly and fully is "harmful to [me] and society as a whole." But in many ways it's been a privilege to come out so publicly. Now, my friends at Yale and the folks in my dad's political orbit in Ohio are all on the same page. They know two things about me that I'm very proud of, not just one or the other: that I'm gay, and that I'm Rob and Jane Portman's son.
Check it all here.