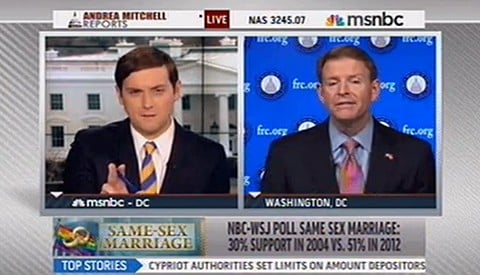 MSNBC's Luke Russert gave Family Research Council's Tony Perkins a delicious grilling today on his opposition to DOMA, calling Perkins out on his misleading talking points, Mediaite reports:
"What do you fear the most about a couple being together – a same-sex couple being together over 60 years like we saw in the Windsor case – what do you fear so much about them getting the same federal benefits for their marriage as an opposite-sex couple would?" Russert asked.
"I don't fear anything," Perkins replied.
"Then why do you oppose," Russert interjected.
"If love becomes a definition of what the boundaries of marriage are, how do we define that going forward?" Perkins asked. He asked, hypothetically, how America would prohibit an individual with multiple spouses from immigrating to the country given that definition of marriage.
"So you equate homosexuality with polygamy?" Russert asked.
"No," Perkins replied.
"Well, you just said that, sir," Russert fired back.
Watch, AFTER THE JUMP…