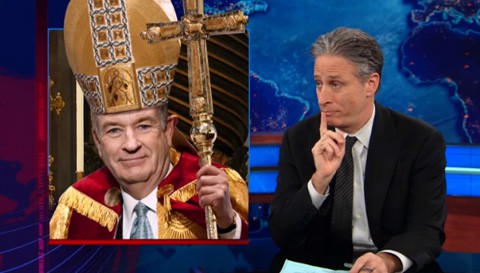 A "grope" of cardinals is gathering in the Vatican for a "molestation" until they reach a "fellatio" announced by white smoke rising from the chimney. The question is, will Bill O'Reilly accept a demotion?
Watch, AFTER THE JUMP…
In related news, the Guardian reports on the fault lines over certain issues that are emerging as the cardinals gather to vote:
Take Cardinal Manuel Monteiro de Castro of Portugal and Cardinal Juan Sandoval Iñiguez of Mexico. In 2004, while papal envoy to Spain, Monteiro de Castro appeared to hint that the church should acknowledge homosexual partnerships as well as heterosexual ones. Although most countries defined marriage as the union of one man and one woman, he said: "There are other forms of cohabitation and it is good that they be recognised."
Sandoval has taken the other side. Three years ago he described same-sex unions as an "aberration" and was equally blunt on the subject of gay people adopting children, asking: "Would you want to be adopted by a pair of faggots or lesbians?" His other betes noires include at least one other Christian denomination, "you've got to be shameless to be a Protestant", and women who he believes fail to dress and behave correctly: "Women shouldn't go around being so provocative – that's why so many get raped."