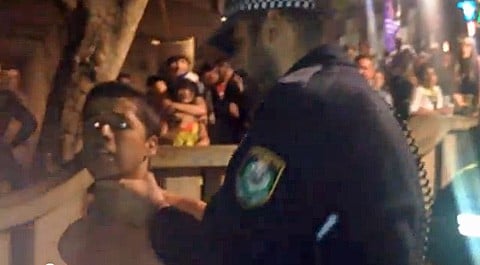 A press photographer caught what appears to be a troubling incident of police brutality on Saturday night on camera, as a reveler at Sydney's Gay and Lesbian Mardi Gras was manhandled and assaulted in front of a crowd of onlookers.
Watch the clip (warning: violence), AFTER THE JUMP…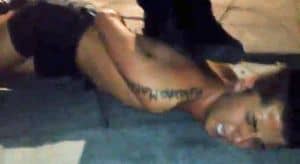 Writes the cameraman:
I was a press photographer for the parade, walking along the backstreets shortly after it had concluded between 11pm and 11:30pm, we heard a man screaming for repeatedly for help.
Walking over we saw him being restrained by two police officers with another 4 in close proximity, he was repeatedly asking them "What have I done wrong?" which they would not respond, all they would say was "you are under arrest". He calling for people walking past to help him and with a large crowd of people began to surround the event. He was struggling and resisting but not aggressively.
The officers told him to stop resisting to which he would reply "why are you doing this I haven't done anything?."
The officer "FAIRFIELD LAC 266" then grabbed him by the back of the neck and slammed his head into the stone pavement, as he tried to get up he was then punched multiple times in the head, leaving blood all over the pavement. The crowd of people overlooking screaming at the officer to stop.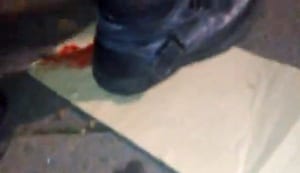 After seeing that I began filming.
What I found most shocking about this event is that the other officers seem to be aware that the amount of force they are using was completely unmerited and excessive. So they hastily try to force me to stop filming.
As a press photographer I knew I was completely within my rights to film police officers in a public space, doing nothing wrong and breaking no laws, so I refused. You will notice I ask multiple times why I am not allowed to film and what laws am I breaking and receive no response.
There were at least 6 officers in the immediate vicinity, the victim was only small and could have easily been restrained by the officers without injury. Instead they choice to force him into submission by repeatedly punching him and throwing him into the pavement.
You'll also hear him asking over and over what he has done wrong to which he doesn't get a response.
Watch the clip (warning: violence), AFTER THE JUMP…
UPDATE: Reports on the incident from the Sydney Morning Herald:
"I'll be calling for an investigation," said the state MP for Sydney, Alex Greenwich. "From what we can see it does appear to be heavy handed and extremely concerning."
And the Australian site Same Same, which reports on another incident involving excessive force: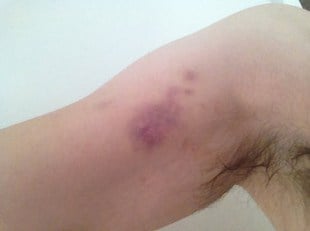 Bryn Hutchinson, who until last month was co-convener for Community Action Against Homophobia – the group that organises and holds large regular marriage equality rallies in central Sydney – has told Same Same that about 11.25pm on Saturday he was unexpectedly set upon by up to five police officers from Parramatta Local Command as he crossed the Oxford Street near the intersection of Crown Street.
Hutchinson, 32, was with his partner, his sister and her friend when they decided to leave a Taylor Square hotel just after 11pm. Hutchinson, who is soon to commence studies for his PhD at the University of Sydney in the field of Bioethics, says he was not drunk or disorderly, or offensive or rude in any way, when the incident occurred…
…Hutchinson, who stands at 169cm and weighs only 65 kgs, said after a brief conversation with the police officer during which he said he was simply crossing the road he decided to continue to the other side.
"I can't remember if he said anything more, but basically it was a verbal interchange and there was no physical contact. Then I was grabbed from behind by several police officers and then thrown onto the ground on my back. Then another police officer was leaning over me and threatening to charge me. I don't know what he wanted to charge me with. I just kept saying I wanted to simply cross the road.