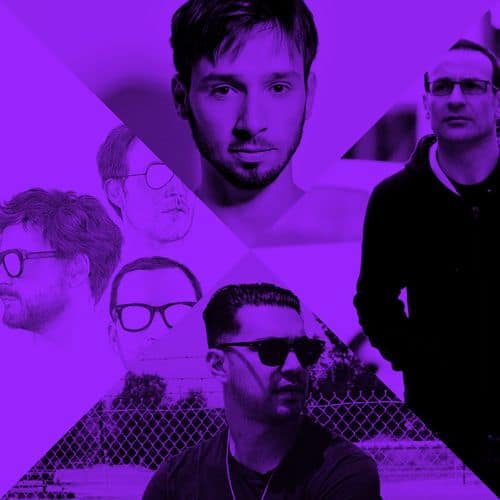 BY OCCUPY THE DISCO / JOSH APPELBAUM
The OXD Mirror is a weekly music column brought to you by the boys of OCCUPY THE DISCO (OXD), a New York City based movement created by three music lovers, Ru Bhatt, Josh Appelbaum, and Tadeu Magalhães, who want to share their love for disco, house and dance music with the gay world.
We are now on Spotify!  Subscribe to our 'As Featured on Towleroad' Playlist to listen to tracks posted from past weeks.
Tuxedo: 'So Good'
The mysterious music act Tuxedo is comprised of unnamed members, but is rumored to be the braindchild of Mayer Hawthorne and producer Jake One.  They seemingly came out of nowhere a couple of weeks ago and started to tease their debut EP Tuxedo Funk cryptically on Twitter and Facebook. This three-song effort showcases their unique brand of smooth, synth-heavy funk.  The slick, yet sometimes silly, vocals are backed by masterful production, creating the perfect brand of sexy funk music to get down to.  Although we may not know who the members of Tuxedo actually are, I am greatly looking forward to hearing more from this talented music act.
Jamiroquai: 'Too Young To Die (Late Nite Tuff Guy Capricorn High Remix)'
Jamiroquai, a band that has been making music since 1992, were one of the pioneers in the acid jazz scene in London in the mid 90s.  To this day, their effect on funk and acid jazz music can be heard across multiple genres, even with popular artists like Robin Thicke and Justin Timberlake.  'Too Young To Die' is Jamiroquai's second single off of their debut album Emergency on Planet Earth.  Lead singer Jay Kay's vocals are the highlight of this song (as they are with most of Jamiroquai's work) while Late Nite Tuff Guy (aka Cam Bianchetti) takes the original upbeat song and substitues a more soulful and jazzy backing.  Although the remix comes 20 years after the original song's release, LNTG's remix adds a sexier element to the song that the band's repertoire has sometimes lacked.
Hanni El Khatib: 'Penny (Classixx Remix)'
San Francisco native Hanni El Khatib describes his music as being 'for anyone who has ever been shot or hit by a train'.  While I don't fall under either category, I am a fan regardless.  His latest single 'Penny,' from his upcoming sophomore album, Head In The Dirt, is a bluesy modern rock song inspired by a bassline Khatib would play while warming up at sound check.  L.A. producers and summer music afficionados Classixx totally overhauled the song, giving it their signature "sunny weather" feeling, complete with crescendoing synths and instrumentals.  The final product is nearly a dub version of the original with the distinct beats Classixx are known best for.
MORE NEW MUSIC AFTER THE JUMP…
Nervous Nellie: 'Gloves (Bruno Be Remix)
Swedish band Nervous Nellie is comprised of two sets of brothers who have been making music since 2004.  Their latest effort, The Gloves EP, portrays a person looking at the past & present through adult eyes.  The title single, 'Gloves,' has been given the remix treatment from Brazilian DJ Bruno Be, who adds a faster beat and more robust backing to the track in the breaks between verses. 
Hypnolove: 'Come to My Empire'
French trio Hypnolove are back after releasing their Holiday Reverie EP last year, with an upcoming album coming out on April 22nd entitled Ghost Carnival.  The talented disco-pop group prides theselves on their decidely European roots, though new-wave influences like Duran Duran can be heard in many of their songs.  'Come To My Empire' falls similarly under that new-wave influence, with a darker sound reminiscent of Joy Division.  Bufi and La Royale also remixed the song into a harder more nu-disco sound, and it's definitely worth a listen as well.
This week's post was written and curated by Josh Appelbaum.
For more information on OXD, check out our website and accompanying blog at www.occupythedisco.com, like us on Facebook, or follow us on Twitter: @OccupyTheDisco.