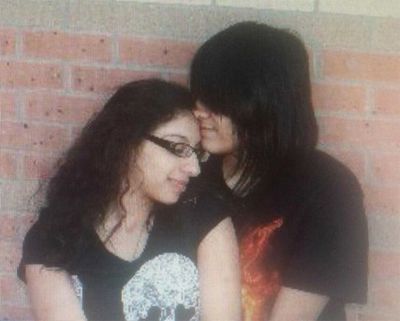 PHOTO OF THE DAY: A Texas high school did not want this picture in its yearbook.  
BY SAM GREISMAN
A look back at today's top stories
GAY NEWS
Jamie Jackson, who was the victim of a disturbing act of police brutality at Sydney Gay and Lesbian Mardi Gras last weekend, has given his first interview about the incidentk. Or what he can remember about the arrest, given that he was beaten about the head. The Sydney gay community has planned a rally against police brutality and is demanding an independent inquiry. 
There has been a lot of discussion recently about whether a gay player would be welcomed into an NFL locker room. Detroit Tiger pitcher Justin Verlander says that there would be no issue in the MLB, at least not with his team. Some disheartening numbers from a recent poll in Minnesota which shows that a majority of people in the state have not yet come around on the subject of marriage equality. Also Ari Waldman takes a closer look at what Obama's so-called "8 State Solution" really means. 
**
WINGNUTTERY
Putting it kindly, Bill O'Reilly seems to have a tenuous hold on his sanity. However, that hold seems to be slipping even further, as evidence by this massive tantrum he just threw about Medicare. CFormer Polish President, Nobel Prize Winner and prominent figure in your high school history books, Lech Walesa says that he has no plans to apologize for his remarks that gays "should be behind a wall". In response, the country's first gay and first trans-gender lawmakers made sure they were highly visible in Parliament today. 
**
ENTERTAINMENT
James Franco sat down with Stephen Colbert to hash out the mysteries of his ever changing and mercurial persona. We are all probably not indie enough to get it. Great news for Star Wars fans, Carrie Fisher will return as Princess Leia in the newest installment. 
It might be hard to form a strong desire to rush out and see Oblivion but, M83's sleek soundtrack certainly helps. And The xx covers "Finally" by Kings of Tomorrow. 
**
VIDEO OF THE DAY
More video to further embarrass the Chinese Official who totally lost his sh*t after missing his flight.