Trinity Western University in Vancouver has applied to join the Federation of Law Societies of Canada and establish a law school in 2015, a request that is being met with protest over its discriminatory 'Biblical' policies, the Toronto Star reports: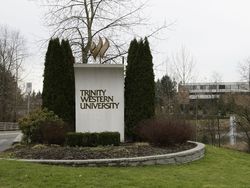 TWU has all its students sign a community covenant agreement that they will "cultivate Christian values" and in keeping with biblical values will abstain from "sexual intimacy that violates the sacredness of marriage between a man and a woman."
The law students who signed the petition are urging the Federation of Canadian Law Societies, the body that grants law school status to universities, not to allow TWU to become a law school because it forbids students from being in gay relationships.
Osgoode Hall law student Douglas Judson said Tuesday that more than 1,000 students signed the petition in less than a week because they wanted the federation to know their concerns about granting approval to allow TWU to begin accepting law students.
"There must be some duty to propagate Canadian Charter values," said Judson. Because of the covenant all students at the university must sign or risk expulsion, Judson said TWU's policies discriminates against lesbian, gay, bisexual, transgender, and queer individuals.
B.C. Civil Liberties Association meanwhile, is backing TWU, saying the school is being discriminated against because of its religious beliefs.
XTRA adds:
"Law school is already incredibly stressful, highly competitive, intense, and we don't need the added stress of being discriminated against by the institution, says Allison Vanek, who is an executive member of OUTLaw, a group for LGBT students and faculty at the University of Ottawa's Faculty of Law. "Here at the University of Ottawa we receive nothing but acceptance from faculty, staff and students at our school, and having that support is directly related to our success in law school and that would be helpful and relevant to any law student.
"How is a school with such a convenant supposed to educate a student in law school on these subjects of same-sex marriage and cases about queer families, same-sex adoption, assisted human reproduction?" Vanek asks. "Those are all going to be relevant in the coming years."