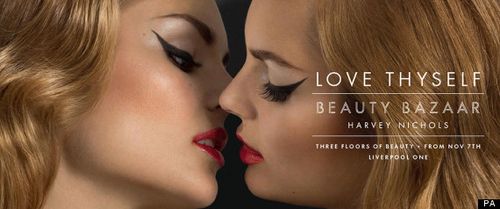 A Harvey Nichols ad depicting what some complainants said depicted an inappropriate lesbian kiss has been cleared by the Advertising Standards Authority, the HuffPost reports:
The Advertising Standards Authority (ASA) received 17 complaints, nine that the images were unsuitable to be seen by children because they appeared to show a lesbian kiss, 10 that they were sexually explicit and two that the phrase "love thyself" in combination with the pictures was offensive on religious grounds.
Harvey Nichols pointed out that the ads did not depict a lesbian kiss but rather a woman kissing herself, which was also made clear by the text.
But the retailer disagreed that a lesbian kiss might be deemed offensive, irresponsible and unsuitable for children, arguing that "the advertising industry should be in the vanguard of those promoting and supporting the equalities espoused by anti-discrimination laws, including those concerning sexual orientation".
Said the ASA:
"Because we considered that it was sufficiently clear that the posters showed one woman about to kiss her mirror image, and because we also considered that they were unlikely to cause serious or widespread offence even if interpreted differently, we concluded that the ads were not offensive, irresponsible or unsuitable for untargeted display because they appeared to portray a lesbian kiss."