RIP: One Day at a Time actress Bonnie Franklin dead of cancer at 69.

Astronomers think they have spotted, for the first time, the birth of a planet.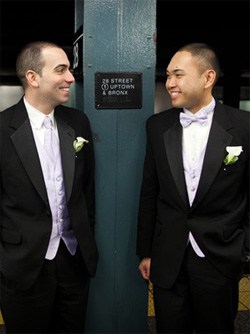 Jonathan and Juka: Another tale of love and DOMA damage.

Justin Bieber now going shirtless and pantless.

Chicago magazine counts the votes for marriage equality in the Illinois House and says it's going to be a VERY tight vote.

GLAAD wants Carly Rae Jepsen and Train to take a stand against the Boy Scouts.

NYT reporter Sheryl Gay Stolberg explains her Marilyn Musgrave mistake: "I corrected it immediately, called Ms. Musgrave and apologized, and she accepted. A good lesson in journalism: Check everything twice, and we are only human."

We found our son in the subway: "When I got to the A/C/E/ subway exit on Eighth Avenue, Danny was still there, waiting for help to arrive. The baby, who had been left on the ground in a corner behind the turnstiles, was light-brown skinned and quiet, probably about a day old, wrapped in an oversize black sweatshirt…Three months later, Danny appeared in family court to give an account of finding the baby. Suddenly, the judge asked, 'Would you be interested in adopting this baby?' The question stunned everyone in the courtroom, everyone except for Danny, who answered, simply, 'Yes.'"

Liza Minnelli talks to NEXT magazine.

Vatican knew Cardinal O'Brien was gay five months ago: "Reports said a priest lodged a complaint in October about "inappropriate behaviour" by the former Archbishop of St Andrews and Edinburgh in 2001. The priest is said to have written directly to Rome because he did not think he could trust the church hierarchy in Scotland to handle the matter. His claim is said to have been taken seriously and led to the Vatican contacting Cardinal O'Brien and a "deal" being brokered by Cardinal Marc Ouellet of Montreal for the departure of the leader of Scotland's Catholics."

Another Downton Abbey cast member leaves the show.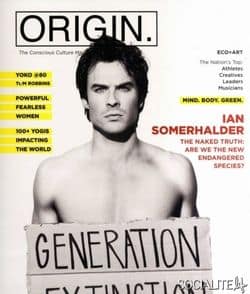 Ian Somerhalder dresses down for Origin magazine.

Australian comedy series pulled from mainstream network for being "too gay". Creator: "They told me it (the switch to ABC2) was a compliment. I don't believe them," Thomas says. "I don't know if what they were really saying was, 'Josh the show is a bit s—' or, 'Josh the show has too much suicide and gay sex in it'.

Kathy Bates character on American Horror Story to be "really, really bad".

Mississippi students protest transgender classmate.

Ellen's brief to the Supreme Court: "In the words of Benjamin Franklin, 'We're here, we're queer, get over it.' And there's another famous quote that says 'A society is judged by how it treats its weakest members.' I couldn't agree with that more. No one's really sure who said it first, so if anyone asks, tell them I said it."

Obama issues proclamation for Women's History Month.

But it looked so good.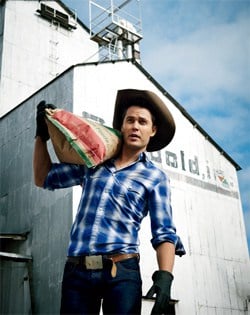 Taylor Kitsch joins the cast of HBO's The Normal Heart adaptation: "Kitsch plays Bruce Niles, a closeted investment banker who becomes a prominent AIDS activist."

Is Anne Hathaway the new Gwyneth Paltrow?

Former Malaysian Deputy Prime Minister Answar Ibrahim denies he is gay: "Of course, it's very clear (that I am not)…I am happily married with six children."

Texas group fights to get criminalization of homosexuality off the books.

Demographic information on gays and lesbians unearthed in SCOTUS amicus brief: "About one in five gay and lesbian couples are raising children under the age of 18. Same-sex couples are less likely than traditional married couples to have health insurance covering them both. One in 10 men with a male partner or spouse is a military veteran. As many as 6 million Americans, roughly 2 percent of the population, have a parent who is lesbian, gay, bisexual or transgender."