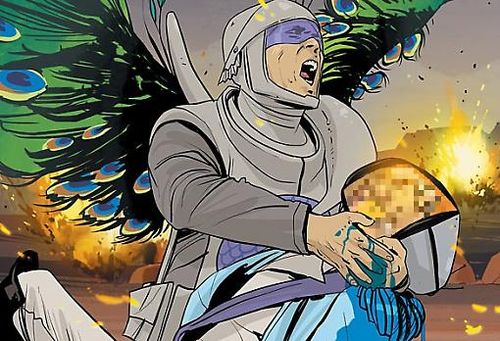 Apple is banning the sale of a popular comic book through any of its iOS devices over two "postage stamp-sized images" of gay sex, while previous issues of the comic which featured larger group scenes of heterosexual sex, sailed through, the New Statesman reports:
The comic in question is Brian K Vaughan and Fiona Staples' SAGA, one of the New Statesman's best graphic novels of last autumn. Issue twelve of the series opens with one of the characters, Prince Robot IV, injured on a battlefield. On his TV-screen head (look, it's a thing in the series) images of gay porn are visible, as the damage takes its toll. You can take a look at the pages in question here and here, and while the small visible images are certainly explicit, they're far from erotic. They work in humorous juxtaposition to the chaos of the battleground, and underline the artificial nature of the character in question.
The paper adds: "It's hard not to conclude that the rejection is homophobic. Even if it doesn't come from explicitly homophobic guidelines on Apple's part – and the company is notoriously opaque about how its App Store approval process works, so we can't know that for certain – the outcome must be judged on its own merits."
UPDATE: Apparently this was all nonsense:
As a partner of Apple, we have an obligation to respect its policies for apps and the books offered in apps.  Based on our understanding of those policies, we believed that Saga #12 could not be made available in our app, and so we did not release it today.
We did not interpret the content in question as involving any particular sexual orientation, and frankly that would have been a completely irrelevant consideration under any circumstance.
Given this, it should be clear that Apple did not reject Saga #12.