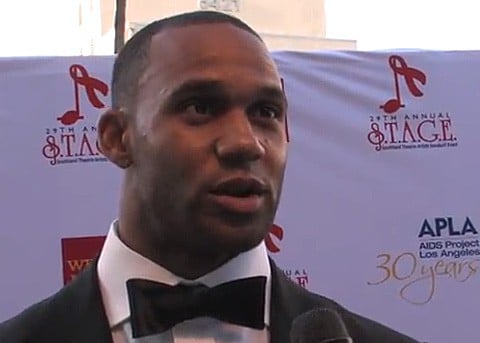 New York Jets safety Bret Lockett spoke with reporter Mike Skiff at an APLA fundraiser last Saturday. Lockett spoke about his involvement with anti-bullying organizations, and the rumors (now quashed) the a group of NFL players are planning to come out.
Said Lockett:
"I think it's interesting and I think it's going to happen sometime soon now. It will definitely stir up a crazy controversy among the media and everybody else, but I don't have a problem with it. I support everybody. Everybody has a right to do what they want. I don't have a problem playing with anyone who would be gay. At the end of the day, as long as they're a great football player, that's all that matters."
Lockett was also asked what he'd say to players who have a problem with it:
"Get out of their box. To open their horizon because most of the time, their fear, their fear or their homophobia is that 'Oh this guy wants to touch me or do things to me' (and that's not true).
Watch, AFTER THE JUMP…