In a state ment to the Tampa Bay Times editorial board U.S. Senator Bill Nelson (D-FL) came out for marriage equality late yesterday: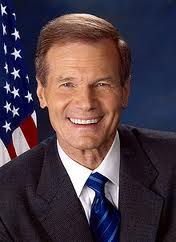 "It is generally accepted in American law and U.S. society today '… that all Men are created equal, that they are endowed by their Creator with certain unalienable Rights, that among these are Life, Liberty and the Pursuit of Happiness.' I believe that. The civil rights and responsibilities for one must pertain to all.
"Thus, to discriminate against one class and not another is wrong for me. If we are endowed by our Creator with rights, then why shouldn't those be attainable by Gays and Lesbians?"
Nelson joins a list of Democratic Senators who have come out for marriage equality in the last week. Only six remain who haven't declared their support.
They are: Joe Donnelly (D-IN), Tim Johnson (D-SD), Heidi Heitkamp (D-ND), Mary Landrieu (D-LA), Joe Manchin (D-WV), and Mark Pryor, (D-AR).