Rapper Busta Rhymes reportedly unleashed a tirade of homophobic slurs at employees at a Miami Beach restaurant this morning after he wasn't allowed to cut in line and then became angry that his condiments were not properly dressing his burger, the HuffPost reports: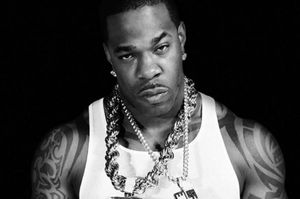 Stephanie Vitori, the owner of local late-night favorite Cheeseburger Baby, told The Huffington Post the rapper's party became belligerent when the restaurant refused to take their order before others waiting in line — then Rhymes flew into a rage when condiments were served on the side, calling one server a "fag" and Vitori a "bitch."
"It's degrading," said Vitori, who is gay. "Thirteen years and every celebrity in there, and I've never had a problem."
The restaurant told him it was first come first served, but served him promptly, they say:
But despite being served his to-go bag within 10 minutes, Vitori said Rhymes became enraged that his mayonaise, ketchup, salt and pepper were included on the side — something she said Cheeseburger Baby does as a rule to prevent soggy buns.
According to Vitori, after an employee explained the policy to the 40-year-old rapper, he allegedly screamed, "F*** you, fag! I'm not leaving until I get ketchup, mayo, salt and pepper on my burger," and he began coming over the counter. "F*** you, bitch," he said, turning to Vitori.
Vitori filed a police report.
It's not the first homophobic incident Rhymes has had at a Miami Beach restaurant.
In 2006, Towleroad reported on an incident he had with a fan at the 11th Street Diner during the Winter Music Conference in which a fan tapped him on the shoulder to compliment him and Rhymes allegedly replied:'Why the [bleep] you touchin' me, man? Get the [bleep] away from me' . . . his two huge bodyguards then caused an even larger scene by pushing the kid away . . . Busta quietly whispered to his bodyguards, 'I hate [bleeping] faggots, man.'"
The HuffPost notes that Rhymes spoke out in support of Frank Ocean when he came out, saying, "I don't know if it's just about hip-hop being willing to accept it, I think the whole world is ready to accept whatever people choose to be in life."