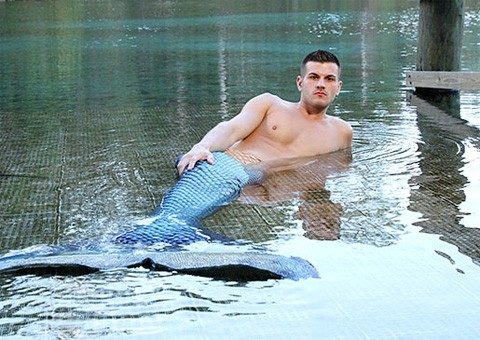 Eric Ducharme is the subject of TLC's My Crazy Obsession, premiering tonight. Buzzfeed has the trailer and some wonderful gifs.
The Daily Mail reports:
'When I put on a tail I feel transformed,' Ducharme says while resting on the water's edge. 'I feel like I'm starting to enter into a different world when I hit the water.'
He calls it 'mermaiding,' his own style of costumed free-diving that he says allows him to escape the world up above.
'Being under water I feel, I'm just totally away from the world,' he explains while able to hold his breath for up to four minutes at a time.
Though as bizarre of a 'lifestyle' activity as it is, it's one his family and even boyfriend have accepted – it not without initial astonishment.
'When I first met Eric, I was introduced to the subject of mermaids, on our first date,' Ducharme's boyfriend Matthew Quijano opens up on camera. 'Your jaw just kind of drops and you're just like, "wow."
'When we go swimming I don't even see him because he swims off to his own little corner, it's all about getting away from the rest of the world,' he says.
Check out video of Ducharme mertailing, AFTER THE JUMP…