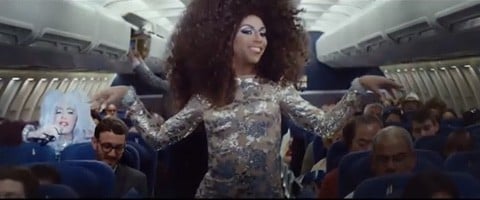 Transsexual actress and activist Calpernia Addams (below) wrote to alert us to a new ad for Facebook's new 'Home' launcher app in which she and RuPaul's Drag Race star Shangela are featured.
Here's the synopsis of the ad:
A boring business trip gets a lot less boring, when Facebook Home brings a guy's friends on the journey with him. And all it takes is a few glances to reveal that his life isn't as conservative as his khakis.
Mark Zuckerberg featured the ad in his keynote this week, Calpernia tells us, and the ad makes Facebook one of the few companies to feature a trans actress in a commercial in a positive light.
Watch, AFTER THE JUMP…
UPDATE: Business Insider reports that the ad is receiving "a wave of negative reaction":
The ad's intent seems to be to show that having Facebook Home means that no matter where you are, you'll get all the wonderful, unadulterated weirdness of Facebook. But it also gives the odd impression that Facebook Home will turn your life into a visual clown car, with an endless stream of trivia spewing randomly from your phone.
The ad was created by agency Wieden + Kennedy, which also did "Chairs." Facebook spends very little money on TV advertising — why should it, it's owns its own audience of 1 billion people after all — and thus needs its ads to go viral in free online video media. Ads generally don't go viral unless they're very unusual. So what's happening here is that Facebook is being deliberately weird in order to get your attention.