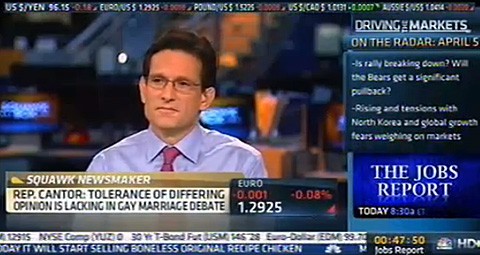 House Majority Leader Eric Cantor (R-VA) was challenged by Squawkbox host Joe Kernen about the GOP position on same-sex marriage. Kernen wondered if the GOP might regret being on the wrong side of an issue that a majority of Americans support.
Cantor refused to give, suggesting that there's an "intolerance" of those who defend 'traditional' marriage:
There are those of us who have personal religious convictions about the issue. And I think we as a country need to respect people about their opinion, not matter which side you come down on….Some of the things we stand for somehow aren't being received in the proper way and it's being portrayed as being we don't care about people."
Hmmm…. like the $3 million House Republicans have spent defending on DOMA?
Watch, AFTER THE JUMP…