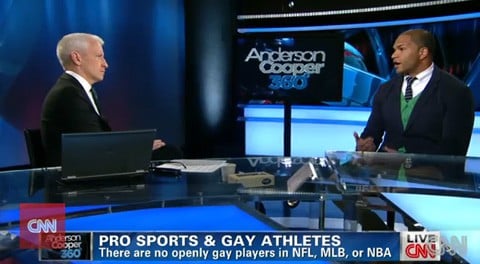 Former Baltimore Raven linebacker Brendon Ayanbadejo sat down with Anderson Cooper last night for a nice interview about his work in LGBT rights advocacy. Anderson asked him what propelled him to be an ally, what he hears in the locker room, whether his own sexuality is questioned in the process of fighting for equality, and about those rumors of the 4 NFL players planning to come out.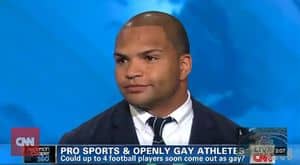 Ayanbadejo tempers expectations a bit on his more precise statements earlier, and the idea of a 'fantastic four' of gay football players now seems much more hypothetical.
Says Ayanbadejo:
No, actually, what it is is, is there are organizations I'm in contact with, and there are individuals I'm in contact with and collectively we know of some gay players. And these players, some of them are anonymous, some of them we know who they are, but their identity is super secret and nobody wants to reveal who they are, and some of them don't want to reveal who they are, rightfully so because it's entirely up to them what they are gonna do.
What we want to facilitate is getting them all together so they can lean on each other, so they can have a support group. And potentially, it's possible, it's fathomable, that they could possibly do something together, and break a story together. And one of them had voiced that he would like to break his story with someone else and not do it alone….Not all these athletes are in the NFL. Some are in other sports as well.
Watch, AFTER THE JUMP…