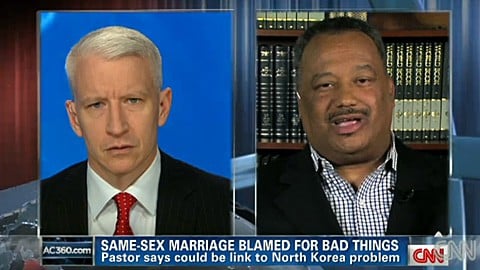 On Moday I posted about Fred Luter, President of the Southern Baptist Convention, who said there is probably a connection between Kim Jong-un's sabre-rattling against the United States and the Supreme Court's consideration of marriage equality and the debate over gays in the Boy Scouts.
Said Luter:
"I'm not that strong in prophecy but I would not be surprised that there's not a connection there simply because of the fact we've seen it happen in scripture before. I would not be surprised that at the time when we are debating same-sex marriage, at a time when we are debating whether or not we should have gays leading the Boy Scout movement, I don't think it's just a coincidence that we have a mad man in Asia who is saying some of the things that he's saying."
Anderson Cooper wanted to ask him if he stood by those remarks. Luter, of course, won't take responsibility for them.
Watch, AFTER THE JUMP…