New York's Empire sTate Pride Agenda is launching a multimedia ad campaign to push for passage of GENDA, the Times Union reports: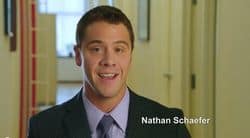 The Gender Expression Non-Discrimination Act has been stalled at the Capitol for years, but after the 2011 legalization of same-sex marriage, it has become the "top legislative priority" of the Empire State Pride Agenda, according to Nathan Schaefer, the organization's executive director. The bill would add "gender expression" to a list of factors in state law — including race and sexual orientation — for which discrimination is expressly prohibited.
"Transgendered New Yorkers can be fired from their jobs, evicted from their homes —they can be denied public accommodation," Schaefer said. "We are hopeful we can bring it to the floor based on the reality of very real discrimination that transgender New Yorkers face."
His group is partnering with others to fund the media campaign, which will include radio spots as well as display ads in newspapers and websites. This is the first time a significant advertising campaign has been launched around the bill. Schaefer said it would be a major part of the Pride Agenda's April 30 rally at the Capitol.
Listen to one of the new radio ads HERE.