Homophobes have essentially run a gay-owned business out of town in rural Manitoba, Canada because of a series of unrelenting verbal attacks, its mayor tells the Winnipeg Free Press: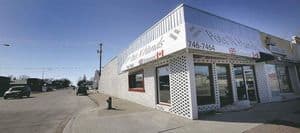 "It's very sad this has happened, that people have been small-minded enough to make them feel unwelcome," van der Linde said Monday. "It certainly doesn't reflect well on the community."
The two owners are from Winnipeg and felt they were filling a void with their restaurant, which specializes in home-cooked lunch and dinners. But they weren't prepared for the bigotry they experienced in the form of direct comments and confrontations about their sexual orientation.
The owners did not specify what the attacks were:
"It's been very difficult for us. It got
to the point of being out of control by this certain group of people,"
one of the owners told the Free Press on Monday. They originally
declined to speak last week, saying only that they were closing for
"personal" reasons. But they later changed their minds on Monday after
learning many others were expressing concern on their behalf. They asked
that their names not be published for fear of ongoing retribution.
"This has been a very difficult decision," said the co-owner. "I cannot tell you how this has affected us on so many levels."
"Both of us understand this small group of individuals don't represent the community of Morris and surrounding communities as a whole," said one. Although it wasn't a secret that the restaurant was owned by two gay men, he said they've done nothing to "flaunt" their sexual orientation.
"But by no means are we ashamed of who we are and how we live," he said,
The paper did catch up with one homophobe (below) who is not unhappy they are leaving:
"They should get the hell out of here. I don't really like them — the service and who they are," said Aaron Kleinsasser of Morris, as he came out of another restaurant in town. "I agree (they should leave). It makes you feel uncomfortable. I've been in there twice, I believe, and I regret it. I'm never going to go back there again."