Iowa Republicans, the same group that has been trying to oust the Supreme Court judges who ruled to legalize same-sex marriage there in 2009, have filed legislation that would slash their salaries, Right Wing Watch reports.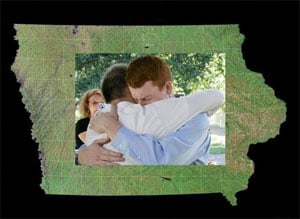 From the Iowa City Gazette:
A handful of House conservatives want to reduce the pay of Iowa Supreme Court justices involved in a 2009 decision striking down a ban on same-sex marriages as part of an effort to maintain the balance of power in state government.
"It's our responsibility to maintain the balance of power" between the three co-equal branches of government, Rep. Tom Shaw, R-Laurens, said Tuesday.
The justices "trashed the separation of powers" with their unanimous Varnum v. Brien decision and implementation of same-sex marriage without a change in state law banning any marriages expect between one man and one woman, added Rep. Dwayne Alons, R-Hull.
Their amendment to House File 120, the judicial branch budget bill, would lower the salaries of the four justices on the seven-member court who were part of the unanimous Varnum v. Brein decision to $25,000 – the same as a state legislator.
It's not meant to be punitive, Alons and Shaw said Tuesday.
"We're just holding them responsible for their decision, for going beyond their bounds," Shaw said.