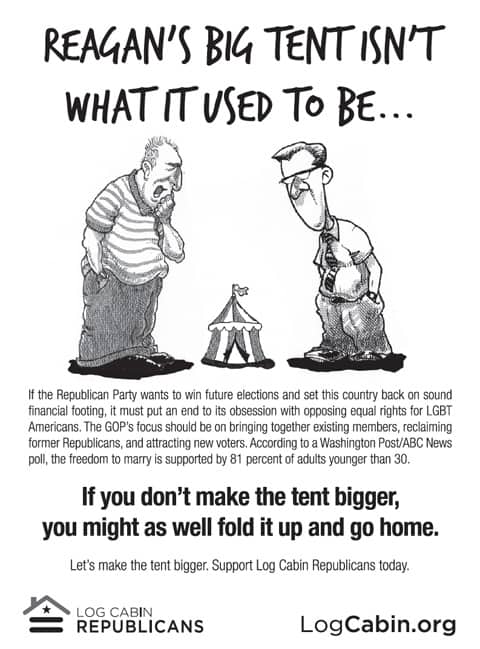 The Log Cabin Republicans took out a full-page ad in Politico today demanding the GOP widen its tent for LGBT Americans. The ad proclaims:
"Reagan's Big Tent Isn't What it Used to Be…"
"If the Republican Party wants to win future elections and set this country back on sound financial footing, it must put an end to its obsession with opposing equal rights for LGBT Americans. The GOP's focus should be on bringing together existing members, reclaiming former Republicans, and attracting new voters. According to a Washington Post/ABC News poll, the freedom to marry is supported by 81 percent of adults younger than 30. If you don't make the tent bigger, you might as well fold it up and go home."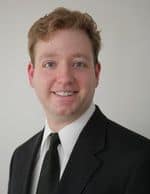 Said LCR executive director Gregory Angelo:
Some Republicans just don't get it. Despite widespread and growing public support for marriage equality and the need to focus on increasing our numbers in the wake of the crushing electoral defeats of 2012, an element of the GOP remains hell-bent on emphasizing exclusion over inclusion.
Make no mistake: as Log Cabin Republicans, we want to win elections, and if the Republican Party wants to do the same it needs to take a stand against anti-gay rhetoric in its ranks and welcome the increasing numbers of Republicans who support the freedom to marry. Our ad today in Politico should be a wake-up call to Republicans and a reminder of the words of President Reagan, who, in describing his 'big tent' conservative philosophy, declared, 'It is not your duty, responsibility or privilege to tear down, or attempt to destroy, others in the tent.' Let's make the tent bigger. Let's get the Republican Party back on a path to victory.