A letter addressed to Senator Roger Wicker (R-MS) testing positive for the deadly poison ricin has been intercepted, CBS News reports: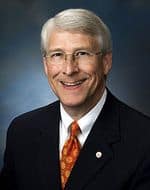 The letter, which was intercepted by the Capitol Police at a Prince George's County, Md., processing center and never reached Wicker's office, has been sent to the Baltimore FBI office for further testing. A source tells CBS News that it's common for false positives to come back on field tests of ricin.
There's no additional information on who sent the letter or what message may have accompanied the letter.
CBS News has learned that results from the more definitive test to be taken at the Baltimore FBI office will not be available tonight.
House and Senate post offices have been shut down.
CNN has posted a bit of background on Wicker:
Before joining the Senate, he held elected office as a U.S. representative in the House from 1995 to 2007. Before that, he served in the Mississippi Senate.
Wicker was one of 16 GOP senators who voted to end a filibuster against a gun control bill on Thursday. He was also one of the 12 Senate Republicans who dined with President Barack Obama at the White House last week.
"I know Roger well," House Homeland Security Chairman Michael McCaul said on CNN's "Erin Burnett OutFront." "He's a nice guy. I don't know why anybody would want to do this to him."