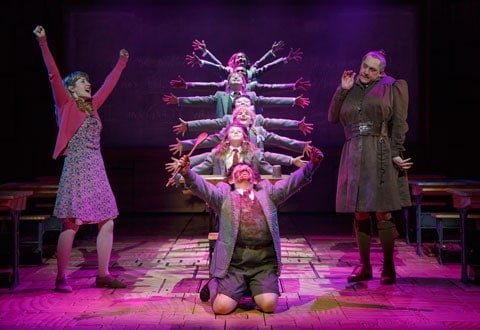 BY NAVEEN KUMAR
Like the extraordinary girl at its center, Matilda The Musical, a new adaptation of
Roald Dahl's much-loved 1988 children's novel, is charming, brilliant, and a
little bit naughty. Already a critical and box office success on London's West
End, director Matthew Warchus' production of the musical with book by Dennis
Kelly and music and lyrics by Tim Minchin, opened on Broadway last Thursday at
the Shubert Theatre.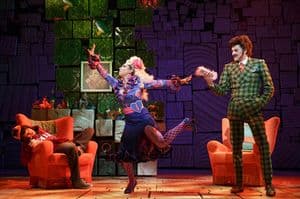 An exceptionally gifted little girl born to outlandishly mean
and stupid parents, Matilda Wormwood isn't an orphan like Oliver or Annie,
although she'd probably be better off. Like many of Dahl's best-known stories, Matilda pits daring young children
against treacherous adults who strike a delicate balance between cartoon
villainy and Gothic cruelty.
Mr. and Mrs. Wormwood (Gabriel Ebert and Leslie Margherita,
both fantastically over the top) are undoubtedly nightmarish, yet they also endear
themselves to the audience with their farcical stupidity. Far from a complacent
victim of their torments, Matilda talks back to her parents and retaliates with
clever pranks—though she later realizes she has more supernatural brain powers
at her disposal.
But it's her school principal Miss Trunchbull (Bertie
Carvel, making a star turn in some seriously scary drag), who is the real
menace in this story. A brick house of a woman and former Olympic hammer
thrower, Miss Trunchbull's brand of villainy is spectacular, fastidious, and
seemingly absolute. Yet with his finely tuned, hysterical performance, Carvel
manages to bring out a vulnerability even in the worst of the show's villains.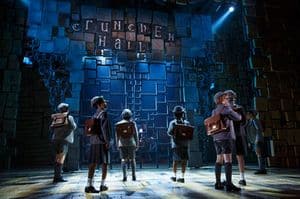 Matilda's teacher Miss Honey (a honey-voiced Lauren Ward),
vows to champion her against the oppression of these cruel nemeses, though it
turns out Miss Honey has a troubled past of her own that makes standing up to
aggressors no easy task.
The show features a rotating cast of four girls in the role
of Matilda on different nights. At the performance I attended, Bailey Ryon
played the role until midway through the second act when she experienced a
minor injury backstage, and Milly Shapiro stepped in after a brief
announcement. Both were wonderful, and the unforeseen switcheroo was a reminder
that each of the four will bring unique qualities to the role.
This being a musical about a prodigy, the language in Kelly
and Minchin's book and lyrics is smart, funny, and rapid-fire. Minchin's catchy
music runs the gambit from buoyant numbers featuring the company of talented
children (nimbly choreographed by Peter Darling), to moving, intimate songs that
address the story's emotional stakes.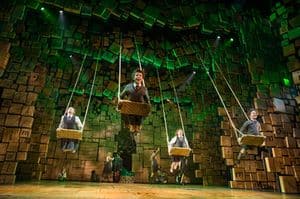 As much as there is to love, the show's second act becomes somewhat
problematic. Storytelling isn't nearly as tight, as musical numbers lead from
one to the next without the clear logic of the first. Matilda's telekinetic
powers would seem an obvious aspect of the book to capitalize on for stage
adaptation, yet by the time they come in over three quarters through, their appearance
feels closer to a convenient plot device than an integral high point of the
story.
Nevertheless, the show certainly isn't lacking in other
highlights. Resembling a fanciful collage of Scrabble tiles, Rob Howell's
imaginative set serves as a constant reminder of the potential of language and
the power of storytelling. Matilda The
Musical harnesses both to its maximum advantage, and the end result is
wonderfully transporting.
Recent theatre features…
'Kinky Boots' Opens On Broadway: REVIEW
Michael Urie Takes On Barbra Streisand in 'Buyer & Cellar': INTERVIEW
Nora Ephron's 'Lucky Guy' Starring Tom Hanks Opens on Broadway: REVIEW
'Breakfast At Tiffany's' Opens On Broadway: REVIEW
Annie Baker's 'The Flick' Opens Off Broadway: REVIEW
 
Follow Naveen Kumar on Twitter: @Mr_NaveenKumar (photos: joan marcus)