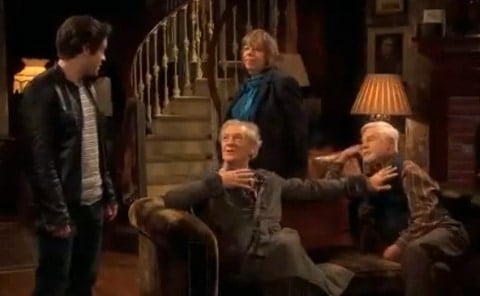 British actors Ian McKellen and Derek Jacobi star in a new sitcom from British network ITV premiering this month. The sitcom is called Vicious and the actors play a bickering gay couple who have been together for 48 years, according to the Hollywood Reporter:
"It's strictly coincidence that this issue is happening in the world," says Gary Janetti, the U.S. writer who created Vicious. "But I think whenever the issue of gay marriage comes up the first couples that get married are these people that have been together 50 years, and you see these two women and these two men in their 80s. And I defy anybody not to be moved by that."
Gary Reich, the managing director of Brown Eyed Boy, which is producing the show together with fellow Shine Group shingle Kudos Film, admits the timing of Vicious is particularly prescient. During the taping of the second episode in the six-part first season earlier this year, the British Parliament — located directly across the Thames river from ITV's studios — were voting to give same sex couples in Britain equal status under the law.
The show is no niche special either. It's being aired in primetime. It has not been sold for distribution in the U.S. yet.
Watch the trailer for the show, AFTER THE JUMP…