The strains of meningitis affecting gay men in NYC and L.A. are not connected, NBC News reports: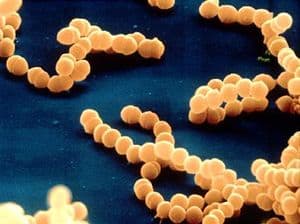 After four cases of meningococcal disease among gay men were reported in Los Angeles county in recent months, there were concerns that the New York City outbreak had spread, but public health officials in Los Angeles and New York say the strains are not connected.
The New York City outbreak has been linked to parties, online websites or apps that men used to find other men for "close or intimate sexual contact," according to health officials. But for more than half of the men sickened by meningitis, there was no evidence that the men had used any of these means to encounter other men, according to public health officials.
Vaccinations are still recommended:
[Dr. Jay] Varma is concerned the outbreak is getting worse. There were a total of thirteen known cases of bacterial meningitis among men last year (triple the total in 2011). But already in the first three months of 2013, four men have been hit, not including Shaad and others in Los Angeles.
"Normally people think of an outbreak as a lot of people getting sick at one point in time – but here the number of cases is much higher than we normally expect," said Varma.
The rate of meningitis in gay men in New York City has spiked to 60 times higher than their straight counterparts.