Video obtained by ESPN's Outside the Lines show Rutgers basketball coach Mike Rice's incredibly abusive coaching methods.
Watch video, AFTER THE JUMP…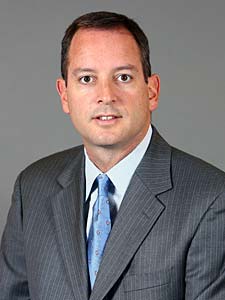 ESPN reports:
In several dozen hours of video of Rutgers men's basketball practices obtained by "Outside the Lines," coach Mike Rice is seen hurling basketballs from close range at his players' heads, legs and feet; shoving and grabbing his players; feigning punching them; kicking them; and screaming obscenities and homophobic slurs.
The video shows practices from 2010-12. About 30 minutes of the video was viewed in December by athletic director Tim Pernetti, who suspended Rice for three games that month and fined him $50,000. But the incidents in the videos obtained by "Outside the Lines" appear to go beyond Pernetti's description at the time, when he cited "inappropriate behavior and language" between Rice and his players. When he announced the suspension on Dec. 13, Pernetti offered few specifics after conducting a week-long investigation.
In addition to Rice's physical actions seen in the practices, Rice calls Rutgers players "f—-ts," "m—–f—–s," "p—–s," "sissy b—–s," and "c—s," among other epithets.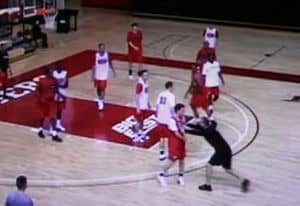 Other Rutgers officials are speaking out:
Eric Murdock, an ex-NBA player and a former director of player development for the Scarlet Knights, told "Outside the Lines" that Rice's "outrageous" behavior had caused at least three players to transfer from the team, including forward Gilvydas Biruta, who transferred to Rhode Island prior to last season.
Murdock, a 44-year-old, nine-year NBA veteran, was fired by Rice and Pernetti in early July. Murdock's attorney, Raj Gadhok, said Tuesday that Murdock intends to sue Rutgers for wrongful termination as early as Friday.
"The one thing I hated," Murdock said of Rice, "he would always talk about 'Lithuanian this, Lithuanian that,' talk about where he's from, 'soft-ass Lithuanian b—-,' 'soft-ass Lithuanian p—-.' His nickname was basically 'Lithuanian f—-t.'"
Watch video, AFTER THE JUMP…
UPDATE: GLAAD urges Rice's firing. As does Brendon Ayanbadejo.