The Mormon Church has given its seal of approval to the new Boy Scout proposal to allow gay scouts but continue to ban gay scout leaders, the L.A. Times reports: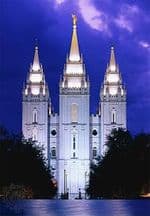 In their statement Thursday, Mormon officials gave their OK to the compromise — without ever mentioning sexual orientation.
"While the church has not launched any campaign either to effect or prevent a policy change, we have followed the discussion and are satisfied that BSA has made a thoughtful, good-faith effort to address issues that, as they have said, remain 'among the most complex and challenging issues facing the BSA and society today,' " the statement said.
The statement, noting the strong ties the church has kept with the Scouts for the past century, added, "We appreciate the positive things contained in this current proposal that will help build and strengthen the moral character and leadership skills of youth as we work together in the future."
Recently…
Eagle Scout Zach Wahls Speaks Out Against Boy Scout Gay Ban: VIDEO [tlrd]
The Boy Scouts Made it Worse [tlrd]