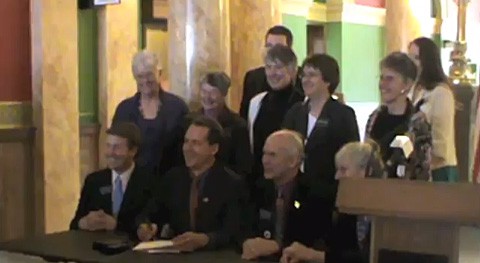 Yesterday in a ceremony at the Montana State Capitol, Governor Steve Bullock signed into law a bill decriminalizing gay sex, Reuters reports:
"I am not going to speak too long," Democratic Governor Steve Bullock told the crowd packed into the expansive rotunda of the state capitol for a signing ceremony. "Because frankly, the longer I talk, the longer this unconstitutional and embarrassing law continues to stay on our books."
…
Montana Human Rights Network Organizer Jamee Greer says the bill's passage is "the first explicit victory for the LGBT (Lesbian, Gay, Bisexual, Transgender) community through the (Montana) legislature in history."
But Greer says it's just one step toward full equality in the state.
Watch the historic and happy moment as the bill is signed, AFTER THE JUMP…