New York State Senator Malcolm Smith and City Councilman Dan Halloran have been arrested in a plot to fix this year's mayoral race, the NYT reports: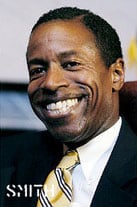 Mr. Smith, a 56-year-old Democrat, and Mr. Halloran, a Queens Republican, were among about a half dozen people facing charges in the federal corruption case, the people with knowledge of the matter said. Others include the mayor of the Rockland County city of Spring Valley, Noramie Jasmin, and her deputy, the people said.
The paper says both were arrested this morning. Smith was taken in handcuffs before sunrise from his home in Queens.
Sen. Smith has said he was considering running for mayor of New York City as a Republican, and the scheme centered on bribe payments he made to Mr. Halloran in exchange for the councilman's assistance in setting up meetings with Republican leaders as part of his effort to get on the ballot, one of the people said.
The criminal complaint is set to be unsealed this morning before a judge.