NYC Pride's Dance on the Pier, moved indoors last year because of a pier that was not structurally sound, is now back outdoors, organizers announced today, and will now take place on Hudson River Park's Pier 26 in TriBeCa on Sunday, June 30.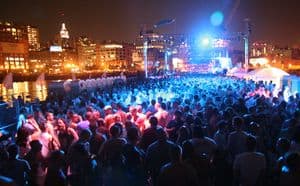 Write the organizers:
NYC Pride is very excited about the move back to an outdoor venue. While last year's Dance and
Rapture were a great success and Pier 57 a phenomenal host, producing the event indoors was a detour from
tradition necessitated by the loss of Hudson River Park's Pier 54. Dancing unabatedly in full view of this great
city is something that many of the events' attendees have come to love and expect. It is with great pride that
we bring the Dance and Rapture back outside to their rightful place in the sun.
"We wanted this year's dance events to be more than just memorable; we wanted them to be historic.
With Supreme Court decisions looming and major changes on the horizon, we felt it was our duty to bring
these events back in line with their original intention: to be a celebration of acceptance, love and community,
outdoors, for all to see! We look forward to creating another world-class dance experience that our attendees
will love," said Chris Frederick, Managing Director of NYC Pride.
"Not only are we thrilled that the event will be back outdoors, but the space is roughly forty feet wider
than our previous outdoor venue. Hudson River Park Trust is currently wrapping up massive renovations on
Pier 26 and it's still in close proximity to Christopher Street and the many historic locations that are so
important to our community. We are very happy with the move and look forward to a host of future events on
this amazing new pier," said Mo George, Dance Director of NYC Pride.
Dance on the Pier DJs this year are Dave Audé and Oscar G. with an opening set from Luis Perez.